National Timber Group Completes Second Management Development Programme in Scotland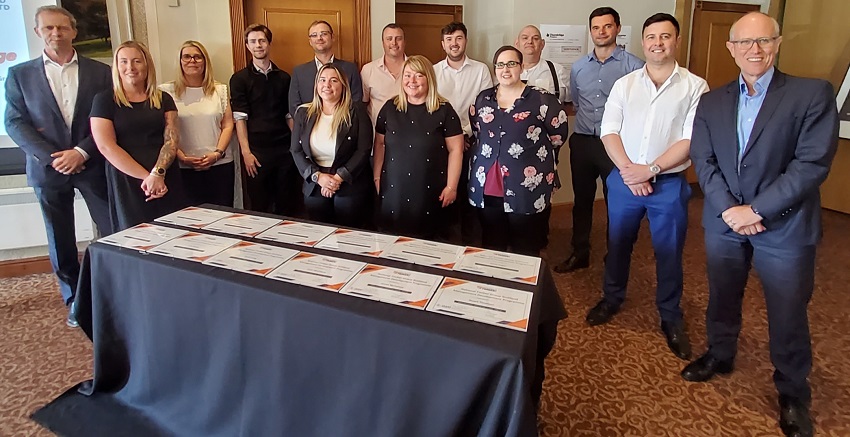 Just over a year ago the National Timber Group in Scotland launched an ambitious Management Development Programme for up and coming people managers in the business. The programme provides both professional and personal development through a mixture of NTG in-house workshops and bespoke residential development days created with JAMES Learning and Development Ltd. Time is also spent on the road with NTG's business support team shadowing their diverse activities in branches.
The first 10 aspiring managers completed the six month course in October and 4 of the cohort have since been promoted. The second programme was launched in December and 12 aspiring managers have just graduated with a Showcase Day of business proposals presented to Group CEO, Rob Barclay and Scotland MD, Nick Ratcliffe.
Irene Robertson, business development director NTG Scotland said: "Our original intention was to give our people an opportunity to personally grow and develop skills which will help them manage their own NTG teams in the future. I did not envisage we would have promotions so quickly from the first cohort and while there are no promises of immediate management positions following the programme, I am delighted we have appointed from within. Most importantly everyone who has completed this programme has noticeably flourished and their soaring confidence and knowledge levels are already benefitting the business!"
Nick Ratcliffe, managing director NTG Scotland commented: "The success of our business is through the success of our people and ensuring they have the skills and tools to do their roles effectively benefits everyone. This Management Development Programme has been transformational and listening to business proposals from those who are closest to our customers and processes is always enlightening and appreciated."
Planning for the next Management Development Programme will start in the Autumn.
[Picture caption: NTG Scotland MD Nick Ratcliffe and CEO Rob Barclay pictured with the latest Management Development graduates]