National Timber Group Support The COP26 House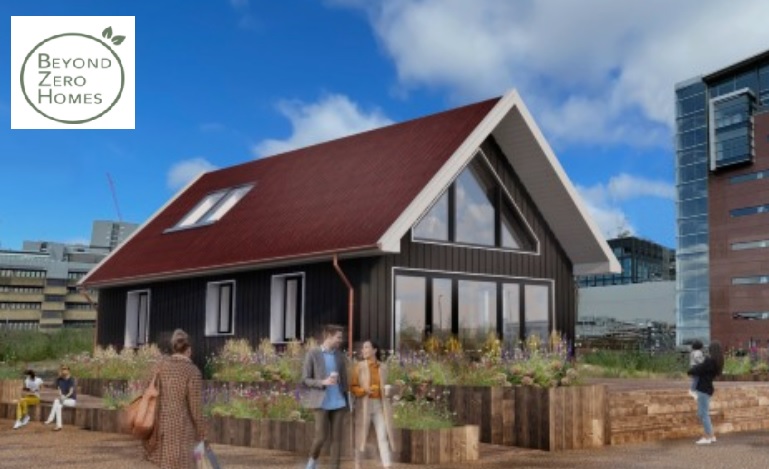 The COP26 House is being constructed in central Glasgow for the UN Climate Change Conference being held in Glasgow 1-12 November 2021. Designed by Peter Smith (of Roderick James Architects) and constructed by members of Beyond Zero Homes, the house will showcase to the world what we are able to achieve with the materials and technologies we have available today. It demonstrates a simple, affordable way to build beautiful homes which will simultaneously help us meet our climate commitments.
As part of this Beyond Zero Homes project, National Timber Group are proud to support this venture by providing both expertise and materials into the build. We've worked with customers and  suppliers to help the team deliver something different, that hopefully makes people think about how we can deliver housing in a sustainable way.
The house is located on a site owned by Scottish Enterprise, on the Broomielaw, to the East of the Kingston Bridge, a short walk from both the Scottish Event Centre (SEC) – the main COP26 conference venue – and Glasgow Central Station.
Every detail in the design of the COP26 House has been considered in terms of its environmental and social impact, the performance in use, capacity for re-use of materials at end of life and – importantly – affordability.
Credit: Fourfifteen
The house was specifically designed to use homegrown C16 Spruce, to avoid the need for imported timber. The construction is based on a 1.2m grid, so it can easily be panelised and prefabricated. This size of grid also means that the same design could be self-built on site by two people. The one-bedroom house, with mezzanine studio, is built on a 10 metre by 5 metre footprint and has been adapted from one of Roderick James Architect's signature designs, the barn house.
The house and build system have been designed with small scale, rural self-build developments in mind. However, the system can also be adapted to larger scale developments and offsite prefabrication.
Integral to the design is that the house can be easily dismantled at the end of its life, for re-use of materials or recycling. After COP26, the house will be dismantled into the original 1.2-metre-wide panels. It will then be transported in its entirety from central Glasgow to its new home near Aviemore. There it will be one of a development of 12 affordable timber houses by Roderick James Architects.
The Case For Home Grown Timber Homes
The UK is one of the largest importers of wood products in the world. As a nation we spent £7.5 billion in 2020 importing wood products from other countries.
We also have a significantly lower amount of forests as a proportion of land area compared to the majority of Europe. Forests make up only 13% of land area in the UK vs Finland 73%, Germany 33%, and Italy 32%. Across the country there are vast amounts of land available which are suitable for carefully managed woodlands.
Management of a woodland ecosystem ensures that it remains in good health whilst simultaneously providing havens for wildlife, health, leisure and sporting facilities for people, in addition to supplying enough timber to build all of our houses. And it does all of this at the same time as capturing CO2 from the atmosphere.